Private Practice
This refers to treatments administered at my private practice. The advantages of this is that all my equipment and other resources are on hand all the time, and my database is kept there for accurate information on bookings and advice about other treatments.
This is currently situated in a suitably equipped room at my local leisure centre in Nottingham.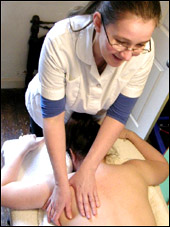 The photograph on the left shows me administering a general remedial massage in my private practice: a room at a local leisure centre.

Other advantages of using the private practice are principally that customers can use the facilities of the leisure centre either before or after treatments; for example swimming, or the gym.

Massage preceding and following strenuous sporting activity is a huge benefit to performance and recovery. Many squash players use the practice following an hour or two in the centre's courts. Similarly, weight trainers and gymnasts.