Welcome to MCJ Sports Massage.com
On the site you will find general guides to what reflexology and massage are, and a guide to the services provided by MCJ Sports Massage. Use it as either a route to contacting me for advice and/or treatments, or some general information on some of the various types of treatments available in this field.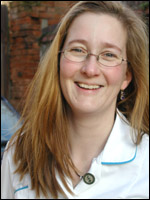 Marie C. Jennings ITEC, MIFR, IIST
Qualified and practicing reflexologist/massuese for over 10 years.

My current clients are mostly private individuals receiving treatments in their own homes using my home visit service. Others are people I treat in their workplaces as part of a corporate visit. I also have a room in a private practice which I use for treatments not suitable for mobile equipment.

I am based in Nottingham, England, and work a radius of 20 miles or so.
The links down the right hand side are to pages containing all the relevant information needed to find out what I do. I can only offer treatments to those who live near enough for me to drive! If that's not the case for you, please read and enjoy the information. I'm sure you'll at least gain some knowledge.